Worship Schedule
In-Person Worship - Sundays: 8:00, 9:30 & 11:00
Live streaming every Sunday at 11:00
Wednesday, September 22: Adult Bible Study - 7:00pm
Youth Group - 6:30-8:30 (Christian Life Center)
Saturday, September 25: Compassion in Action Grocery Distribution - 10:00am (Save-a-Lot Parking Lot)
Sunday, September 26: Worship - 8:00, 9:30 & 11:00 (Live-streaming at 11:00)
Nursery - available at all services
Adult Sunday School - 9:30 (Christian Life Center)
Toddler Sunday School - 9:30 & 11:00 (Main Church Building)
The Junction - Kids Small Groups (Sunday School) - 9:30 & 11:00 (Christian Life Center)
Autumn Small Group Opportunities
1.
Adult Sunday School
: Sunday mornings at 9:30 in the Altman Room
Led by Penny Taylor
Studying,
The Bible Code - Finding Jesus in Every Book of the Bible2.
Adult Bible Study
: Wednesdays at 10:00am (in the Sanctuary) & 7:00pm (in the lobby)
Led by Paul Walter
A study of the Book of Proverbs
3.
Financial Peace University
: (Begins 9/26 in the Altman Room)
Sunday Evenings at 6:00pm *Childcare is provided
Led by Brian White and Matt Tyrrell
Learn the step-by-step plan to pay off debt fast, save for your future,
build wealth, and give generously
4.
Grief Share
: (Begins 9/26 in Rm.3/Teen Room in Christian Life Center)
Sunday evenings at 6:00pm
A group for those learning to walk through grief.
5.
The Most Excellent Way
: (Begins 9/26 in the church lobby)
Sunday evenings at 6:00pm
Led by Paul Walter
A follow up study to Pastor Paul's sermon series, The Most Excellent Way
6.
Women's Bible Study
: (Begins 10/7 in the Altman Room)
Thursday mornings at 10:00am (Led by jeanie Rinehart)
Thursday evenings at 6:00pm (Led by Kim Lovely)
Pricilla Shirer's Study on Elijah
Call the church office 419-468-9648 or sign up on the Cafe doors in the lobby
5 x 5 Bible Reading Challenge
Just 5 minutes a day (one chapter in the Bible) five times a week and you can read the whole way through the New Testament in 2021.
You can pick up your guide for the challenge in the church lobby or download the pdf from the website.
Rightnow Media is like the Netflix of Christian Bible studies. With access to 10,000+ Bible Study videos, from 150 leading Christian publishers and ministries, you'll find valuable tools for your neighborhood groups, personal development, and areas of life training like marriage and parenting.
The church has a membership so you can sign up for free today and take advantage of the many Bible Studies and resources that are available to you through this service.
There are 2 ways to sign up:
1.
http://www.rightnowmedia.org/Account/Invite/GracePoint/Galion
2. Scan the QR Code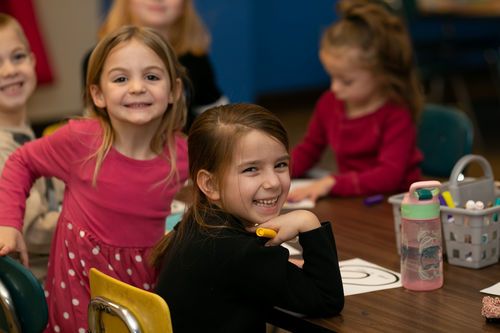 Nursery and Toddler Care during every service
Small Groups (Sunday school) for Kids @ 9:30 & 11:00 every Sunday
We're live every Sunday morning during our final service.  We'd love to have you join us here or on Facebook every Sunday!
Welcome to Grace Point! Our desire is to be a point of grace in our community and in our world. We exist to help people begin a growing relationship with Jesus that lasts all the way into eternity. Our goal is for everyone to experience grace on three levels. We want to: Get it…Give it…Live it!
We'd love to Pray for you!
Sunday Mornings
8:00am, 9:30am, and 11am