SMALL GROUPS

Join us for small groups at 9:30 and 11:00 EVERY Sunday!


This month our theme is CHRISTMAS. God gave us the greatest gift when He gave us Jesus. We can celebrate all year long when we remember what God has done for us.

The best gift God ever gave was Jesus. Because of Jesus, it's possible for us to have a relationship with God that will last forever. As we remember the Christmas story, we take time to celebrate the greatest gift the world has ever known.

Have fun watching and learning as a family!
Use the guides below to dive deeper into how we can be confident in who God made us to be. There is a preschool guide, an elementary guide (K-3), and preteen guide (4-5). Remember, our theme for this month is CHRISTMAS! Keeping our focus where it needs to be during this season is so important! We can take our joy this month with us through the rest of the year. We truly were given the best ever gift that first Christmas morning!
How do we know God loves us? God gave us Jesus.

Every person will question God's love
for them at some point. When that questioning surfaces, we can always look back to that moment in time when God showed us just how much He loves us. Remember that time God gave us Jesus? Yes, He loves us that much!
Infants: Nursery care is available for infants during all services in the main church building. Check-in is in the lobby.
Toddlers: Preschoolers are welcome in the Nursery during the 8:00, 9:30 & 11:00 services. Sunday School is provided for them during the 9:30 & 11:00 service in the main church building. Check-in for Toddlers is in the Lobby.
During the 9:30 & 11 am services, join us in the classrooms in the Christian Life Center (September- May).
Our small groups are split into 5 different groups divided by age levels.
Small group leaders guide interactive lessons that carry over our life apps that develop characteristics of God like love, humility, knowledge, joy and others!
We have a team of committed volunteers who invest weekly into the lives of our kids.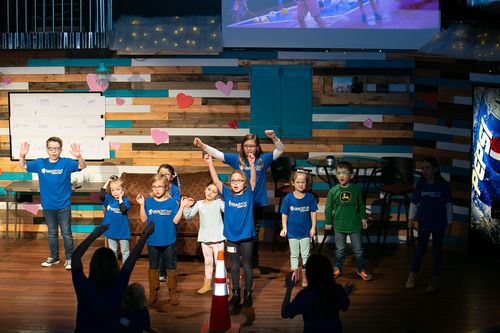 Our goal is for all kids to learn 3 things before they reach middle school:
I can trust God no matter what.


I need to make the wise choice.
I should treat others the way I want to be treated.